CREATE A ROCK ART MURAL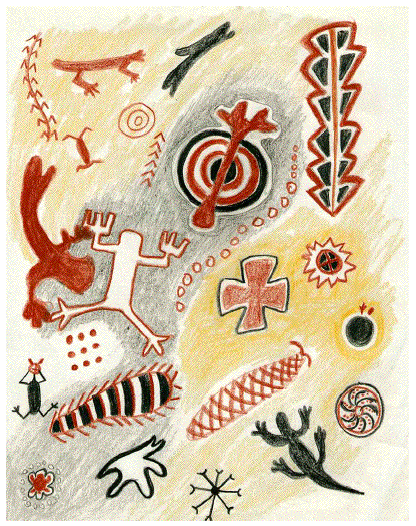 Composite redrawing by Sue Ann Sinay from Rock Paintings of the Chumash, Campbell Grant.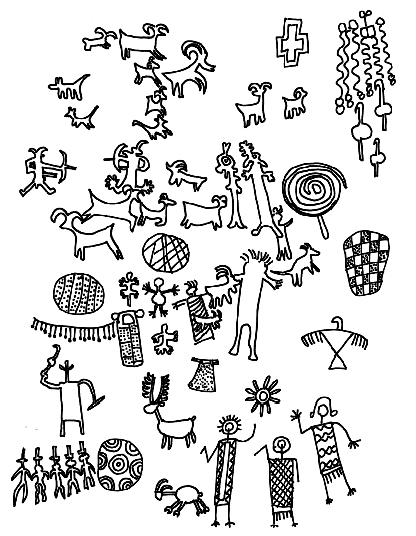 Composite redrawing by Sue Ann Sinay from Rock Art of the Coso Range, Campbell Grant.

OBJECTIVES
Students will be able to recognize the various types and styles of rock art created by Southern California Native Americans. They will also realize that rock art is being destroyed by natural erosion, vandalism, and development of housing, roads, and dams.
BACKGROUND
The teacher will read the text "Native American Rock Art in Southern California." The teacher will then introduce the students to the information found in this booklet.
TEACHER PREPARATION
The teacher will tear brown, tan, black, or gray construction paper into irregular rock shapes. The paper shapes will be crumpled to form a textured surface that resembles rocks. The teacher will photocopy appropriate material and will obtain listed reference books about rock art.
STUDENT ACTIVITY
1. Sheets with photocopies of Southern California rock art types and styles are placed on the student's desks. Color prints from books can be shown to the students. Teacher will present information from the reference books and this material about Southern California Native Americans and their rock art.
2. Each student is given a paper rock and earth colored chalks (black, gray, brown, white, yellow, red, green, and blue).
3. Each student is to create a natural rock background by rubbing the various chalks on the paper and blending it in with the fingers. Then each student is to create a pictograph using the chalk to make designs like those of the Native Americans of Southern California.
4. When the rock art panels are completed, they may be sprayed outdoors with fixative or hair spray. A mural may be created by mounting all the art work together on a wall.
This lesson was created by Sue Ann Sinay, Art Teacher.
---
Go to contents page | Go to previous section | Go to next section