VISIT A SOUTHERN CALIFORNIA ROCK ART SITE
ACTIVITIES FOR VISITING A ROCK ART SITE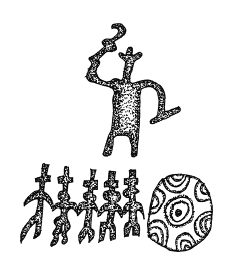 The following pages are designed for the teacher to copy. The questioning strategy will encourage the student's proper behavior at the rock art site, as well as their thinking skills.
Many of the questions asked are the same as those on forms archaeologists use to record rock art sites. Some will encourage inquiry about plants, animals, geology and cultural history. Answers to some questions can be made during the classroom preparation for the field trip.
Rock art sites are inspirational to visit. Artists, writers, and poets have been inspired by these enigmatic marks left by ancient people. There are questions designed to let the children draw, imagine, and write about their feelings.
It is suggested that you have one adult to every two children. Archaeological sites are fragile and irreplaceable. Divide the class into smaller groups under the supervision of a responsible adult who has been prepared to answer questions at the site.
Many people have stated that rock art sites should be fenced or kept secret in order to preserve them. However, those who want to vandalize these sites have destroyed the fences, or have found rock art sites in remote areas. So ultimately, the only protection is to educate people about the beauty, sacredness, and value of these special places. One of the questions asks for the student's opinion about how to protect rock art sites.
RULES FOR VISITING A ROCK ART SITE
The RIGHT THINGS TO DO at a rock art site

1. Take as many pictures as you like, from the proper area.

2. Look around, try to imagine why the site was chosen by Native Americans for making rock art.

3. Try to draw some of the rock art symbols on the paper you brought.

4. Wear comfortable safe shoes for walking and hiking.
WHAT NOT TO DO at a rock art site: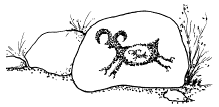 1. Do not touch or climb on the rock art.
2. Do not pick up or take any artifacts from the site.
3. Do not leave any trash at the site.
4. Do not climb over fences or railings designed to protect the rock art.
5. Do not put chalk, paint, or any other material over the rock art.
---
Go to contents page | Go to previous section | Go to next section